Rewilding water catchment areas in Buea, Cameroon (@SUGi)
"When you plant a tree, you want to see it grow. You want to be able to visit it from time to time to see its progress, " says Elise Van Middelem, who turns urban wastelands into urban green spaces where people can reconnect with nature. 
Three years ago, she started a project, called SUGi, to plant native sustainable forests in urban spaces. There are currently 150+ projects in her forest portfolio, spread out over 22 different countries, that transform spaces into SUGi Pocket Forests, each one based on a local ancient woodland. 
With a network of 25 forest makers, people scouting and realizing mini forests, SUGi is looking globally, to countries including the UK, Belgium, India and Australia, to turn urban wastelands into mini forests, thereby restoring biodiversity and reintroducing native species. The name Sugi is Japanese for a conifer of the cypress family that is endemic to Japan. 
At the start of her project, a friend introduced her to the Miyawaki planting method, named for the botanist, Dr. Akira Miyawaki, who developed it. This method encourages tree communities to grow upward and share resources, while developing  a dense structure that restores biodiversity. 
This method gives forests four layers – shrubs, sub-trees, trees and a canopy – with at least three trees planted per square metre. Plants are selected on the basis of a flora and fauna study, soil survey and vegetation report. SUGi published their inaugural Impact Report, an in-depth overview of the 104 SUGi Pocket Forests planted in 15 countries since May 2019. They restored 567 Native Plant Species whilst engaging close to 11,000 children. SUGi's powerful global network of Forest Makers achieved an average of 83.5% survival rate on the Pocket Forests.The environmental impact is also significant, with each species increasing a forest's carbon capture potential by six percent.  
SUGi follows this approach, creating forests that are more dense, resilient and biodiverse than invasive monoculture plantations. Native trees require less maintenance and watering, alleviating the need for pesticides and artificial plant foods. After two-three years, depending on the climate, a Miyawaki forest can be considered self-sustaining. 
Image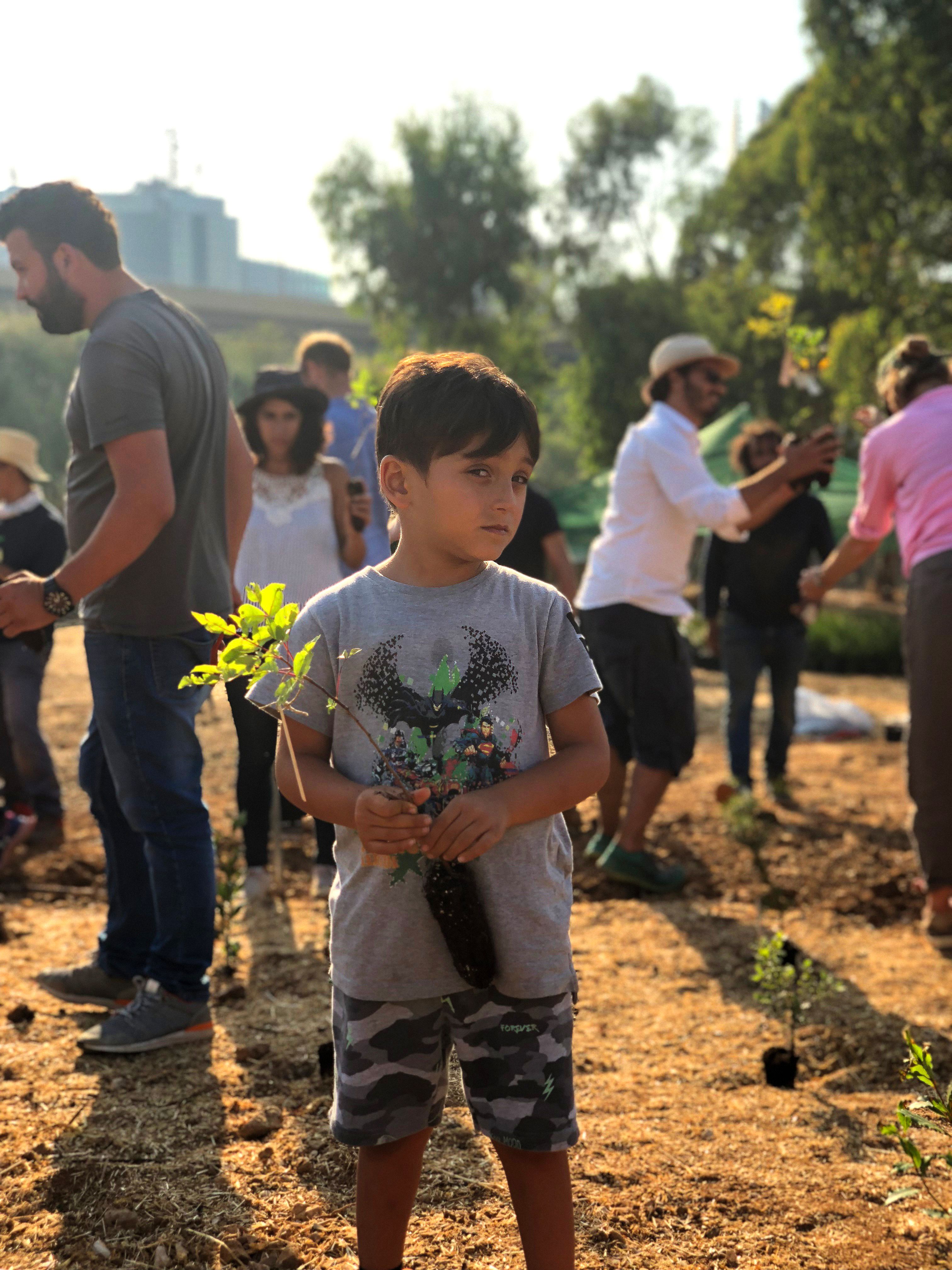 Young boy at the urban forest space created in Beirut, Lebanon (@SUGi)
Her first project was with a friend in Beirut who wanted to transform a landfill into a public space. "Hundreds of kilos of trash were taken out, and native trees were planted along the Beirut River in May, 2019," says Elise. "Now, it's a real forest and a place where people can hang out, relax and connect with nature. It has survived a revolution, a pandemic and a toxic explosion. It's a symbol of the resilience of nature, of the resilience of the community."  
In India, they've built a SUGi Pocket Forest in one hundred schools. So now there are one hundred mini forests made only of native species, creating a lower temperature for the school children, as well as filtering the air and giving the students an opportunity to learn about nature. 
The forest makers involved in SUGi develop projects that will make a real impact on the community. For SUGi to approve a project, it has to be fully accessible and transparent. If approved, SUGi then looks for brand partners who want to adopt the forest. Or if people request a pocket forest, they curate one for them.  
Brand partners could be a global bank or a local school or any other entity or individual that wants to be involved in ecosystem and biodiversity restoration. It can be part of a corporate team building exercise, where employees dig and plant together and then, have a pocket forest in their neighbourhood to feel, nurture and enjoy as it grows and flourishes. 
So far the majority of SUGi pocket forests have been made in schools. Over 11,900 school children have been involved so far in creating and benefiting from forests that are roughly two hundred square meters, the size of a tennis court. Planting in four layers means this area can hold roughly 600 native trees, providing maximum biodiversity both above and below the ground. 
SUGi's funding comes mostly from partnerships, subscriptions and one-off donations. Donors get monthly updates on the progress of SUGi projects.  
Elise is keen for her rewilding project to encourage connection between people and nature. "We're bringing back the ancient forests" she said. "There is no offsetting involved. It's purely done for the beauty and importance of nature. Our forests are healing and learning centres," concludes Elise. 
More info in the Impact Report.  
Watch Sugi forest makers at work in the desert in Rajasthan 
Watch more about Sugi here.  
Author
Griet Ingrid Dierckxsens
Communications and Knowledge Management specialist
UN-REDD Programme
UN Environment
Nairobi, Kenya
ingrid.dierckxsens@un.org