Morris on the streets of Kampala (Photocredit @Morris Nyombi)
When you lose your farm due to flooding, you understand that climate change is a big threat
Morris Nyombi grew up in Eastern Uganda. When he was ten years old, his family broke up, largely due to the stress of losing their farm and having to relocate to find work. His parents farm, close to Lake Victoria, once grew cassava, bananas, sweet potatoes and maize. In 2009, the rains wouldn't stop, and their farm - as well as a big part of their district – was flooded. The government declared a climate emergency, and everybody was advised to leave the area.
After the flood, Morris, his three siblings and parents relocated to Kampala, Uganda's capital, to stay with his grandmother. His father looked for construction jobs, but one day, he didn't come home. He just vanished. Meanwhile, his mother took up a job as a housemaid. Luckily for Morris, her boss was willing to pay for him to finish his primary school.
He then got a scholarship to do the first four years of his secondary school. After that the scholarship ended, Morris was forced to stay home until his mom heard on the radio about another scholarship available to study IT. He applied and got it.
One thing led to another. Having studied IT, when Morris got to know Vanessa Nakate, an Ugandan climate activist, he became her social media handler. And that is how Morris himself became a climate activist, by joining her on climate strikes in Uganda.
"Being a climate activist is seen in Uganda as something for women, not for men. A man is supposed to get a real job, not dabble in activism," Morris said. So he gathered a group of volunteers and started tree planting. "We started with four, but others joined and at some tree planting events, we have over a 150 people, mostly students."
In September 2020, the Ugandan government wanted to sell a piece of Bugoma forest to a sugar cane company. Morris challenged the national forest authority by standing on the street in Kampala with a banner saying: 'Save Bugoma Forest!" He also shared his activities on social media. The next thing he knew he was invited to speak on national TV. It was never broadcast, and the following day his Twitter account was banned.
At the time, this was happening to quite a few activists. But after Greta Thunberg put out a call to lift restrictions on activists' accounts worldwide, Morris got his Twitter account back. He continued with protests and social media outreach.
Image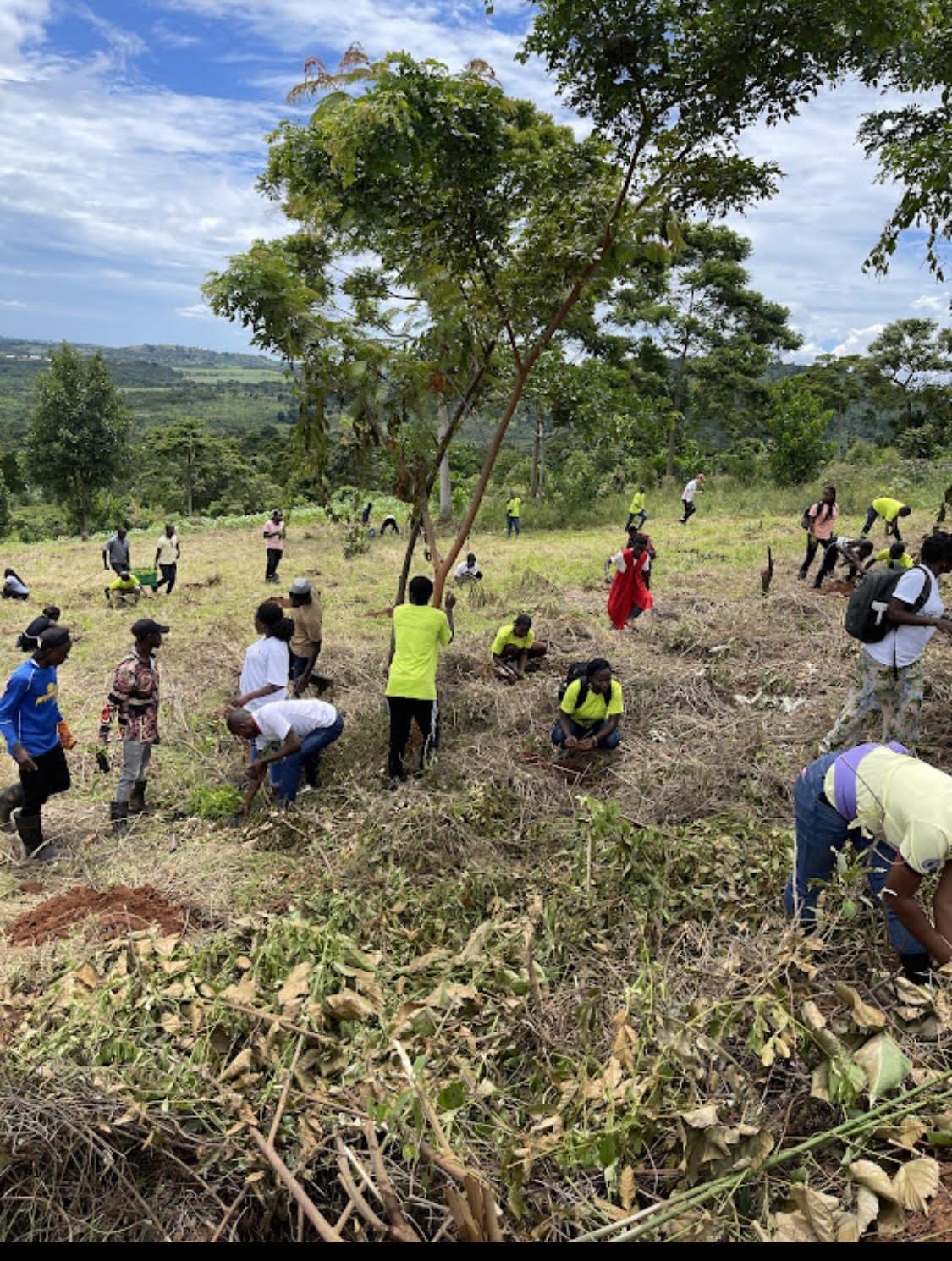 Tree planting activities led by Morris (@Morris Nyombi)
Whenever he plans a tree planting activity, he announces it on his social platforms, and with the donations he receives from followers, he buys seedlings with advice from foresters. So far, his group of volunteers have planted over 48,000 trees in a total of 17 forest reserves. He has also visited 13 different schools to talk about climate change and how to protest peacefully.
"In Europe, people can gather freely to protest on the street," he says. "But in Africa, it is not so easy to do that because you are seen as an opponent of the government. So I want to teach students what they can do to become part of this movement to save the earth, without getting into trouble."
Morris has been interviewed for a podcast with the Brookings Institute, sharing his views on new ideas for saving the environment. As CEO for Earth Volunteers, he was recently in a TED Countdown in New York and he will be participating in this year's New York Climate Week where YouTube Creators for Climate Action will bring together-- in partnership with Global Citizen-- YouTube's most dynamic and engaged sustainability creators for two days of action-oriented dialogue. The goal is to empower, inspire, and educate Creators on climate change. 
"When people ask me what they can do to be a part of the solution, I offer them some options. They can collaborate with those who are already taking action to better understand how they do it. They can use their platform to share stories from marginalized communities, demonstrate how the climate is deteriorating, and allow victims to express what they are going through and what they want leaders to do for them. There are  a lot of voices and stories that need to be heard. Another option is to donate to initiatives such as ours as a way of encouragement. And most of all, people should educate themselvesf about climate change because we need everyone's mode of communication to spread the word."
"There is an African proverb, "If you want to go fast, go alone; if you want to go far, go together." A better and brighter future for all of us is renewable and possible, but the only way we can achieve it is by uniting in one cause, climate justice, and frontline climate actions."