Peatland fires and the resulting air pollution are a worry to local people and neighbouring states. The approaching dry season is usually the highest-risk time for wildfire spread.
Kalimantan, Indonesia's portion of Borneo island, is no stranger to peatland fires. In early July, one of its provinces, Central Kalimantan, declared a state of emergency after over 700 blazes were detected there.
The fires, usually started by farmers looking to cheaply clear land, are a right of Indonesia's dry season. They produce a cloud of haze that can blanket villages, cities and even neighbouring countries, a health challenge during normal times, much less a global pandemic. At the same time, repeated fires dry out the land, making future fires more likely and harder to extinguish. They also reduce biodiversity and slowly rob the land of its ability to support crops, making it more difficult for farmers to make a living.
These problems are nowhere more evident than in the Dusun Hilir District in Central Kalimantan, where tens of thousands of people have been affected by fires in recent years. This area, rich in peat, has seen land degradation due to logging, forest fires, land clearance and peat drainage. These activities have led to a decrease in land quality and put peatlands at risk of burning in the August-September dry season when the fire risk is greatest. (Once a peatland fire starts, it can be very difficult to extinguish, as peat can smoulder up to 12 metres below ground.)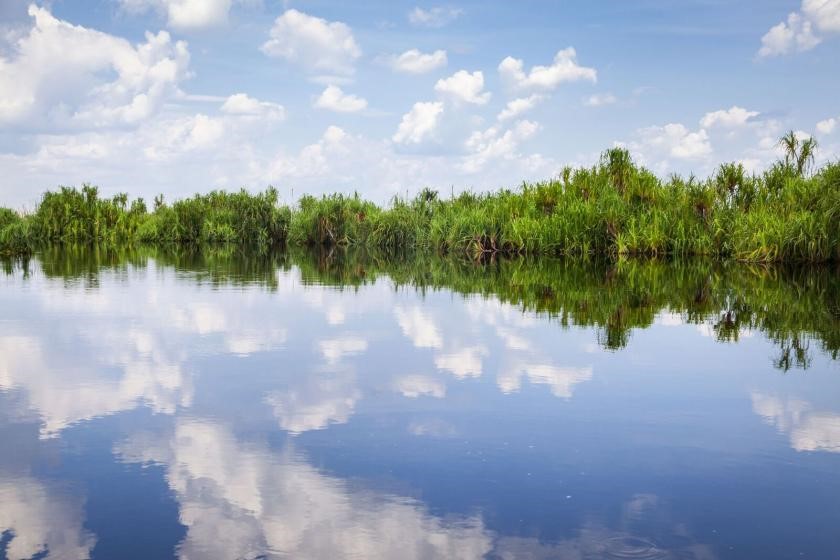 "While drained peat supports agriculture in the short term, scientific evidence shows that drained peatlands are extremely vulnerable to fires, and long-term drainage results in the collapse of peat domes, which eventually lead to flooded, unproductive soil," says Johan Kieft, a United Nations Environment Programme (UNEP) peatland expert. He is also the lead technical adviser for the UN-REDD Programme in Indonesia, a flagship partnership by UNEP, the Food and Agriculture Organization of the United Nations (FAO) and the UN Development Programme (UNDP), which supports developing countries in their efforts to reduce emissions from deforestation and forest degradation.
"The only permanent and sustainable way of preventing peat fires is to raise water levels and find ways to use the land while it remains wet," adds Kieft. In the past 15 years, an estimated 3 million hectares of Indonesia's peatlands have been burned to make way for farming and logging. There has been limited law enforcement, fire prevention and control of fires during the dry season. As a result, peatlands are degrading. During fires in 2015, 43 million people were exposed to dangerous haze, as many as 100,000 people died prematurely as a result of it, and the related financial losses amounted to 1.9 per cent of gross domestic product—more than the country's entire 2014 palm oil profits.
Peat is one of nature's most effective ways of taking carbon out of the atmosphere and stocking it underground, making it crucial to the fight against climate change. On the flip side, when drained and set ablaze, peat fires can release up to 10 times more methane
(a potent greenhouse gas) than fires on other types of soil. "The only permanent and sustainable way of preventing peat fires is to raise water levels and find ways to use the land while it remains wet."
Johan Kieft, a United Nations Environment Programme peatland expert
In 2015, to address peatland degradation, the Government of Indonesia, the United Nations Office for Project Services, and the United States Agency for International Development (USAID) – in close partnership with UNEP – started a project called Generating Anticipatory Measures for Better Utilization of Tropical Peatlands.
The project is funded by USAID. UNEP provided match funding, technical support, project design and technical oversight, including a hydrological assessment, to facilitate community-driven peat rehabilitation methods in Central Kalimantan. Partners include the Institut Pertanian Bogor and The Earth Institute at Columbia University. A tree-planting activity under the project was implemented. The project's fire risk and vulnerability mapping tool identified Dusun Hilir District, which covers 20,000 hectares, as one of the project sites.
Bringing the water back
Restoring moisture to peatlands is key for effective fire prevention and restoration. The project is raising water levels by damming canals, in close collaboration with the district government and the national peat restoration agency. "Compacted peat dams appear to be the most viable as they are cheaper and last longer. Many thousand have been created in Central Kalimantan, and they work well with the plantation industry," says Kieft.
Based on a design developed under the project, the Government of Indonesia has built a large compacted peat dam that has closed the primary channel in Dusun Hilir District. In support of this work, eight dams have been constructed and 11 tertiary channels closed.
As water channels are dammed, the project has been paying out small grants to improve community welfare through the development of horticulture, fisheries (the area is rich in kerapu fish), and other livelihood opportunities. More recently, the Government of Indonesia has been providing village development grants to communities. In return for the grants, people are obliged to actively involve themselves in peatland restoration.
The project also trained four community-based fire brigades in Dusun Hilir that are now able to protect revegetated peatland.
"The results of the rewetting and revegetation show that the fire risk system developed under the project allows for improved targeting of ecosystem restoration activities, and so reduces the impact of haze that has affected tens of thousands of people in the last few years," says Kieft.
Trees on the rebound
Reforestation was a key initial part of the project and is being continued by communities with government support.
One tree that has been planted in large numbers under the project is nyamplung (Calophyllum inophyllum), which grows around rivers and is known to the local community as panaga kelakai.
Nyamplung can be used as a biofuel to reduce the community's dependence on diesel for generators and water transportation. It can be sold as such to boost incomes. The wood is also an excellent building material, and the plant's flowers produce medicinal honey. After four years the tree produces fruit every year. Apart from being a valuable food source, the fruit is also a key ingredient for making tamanu oil, which reputedly has anti-aging properties.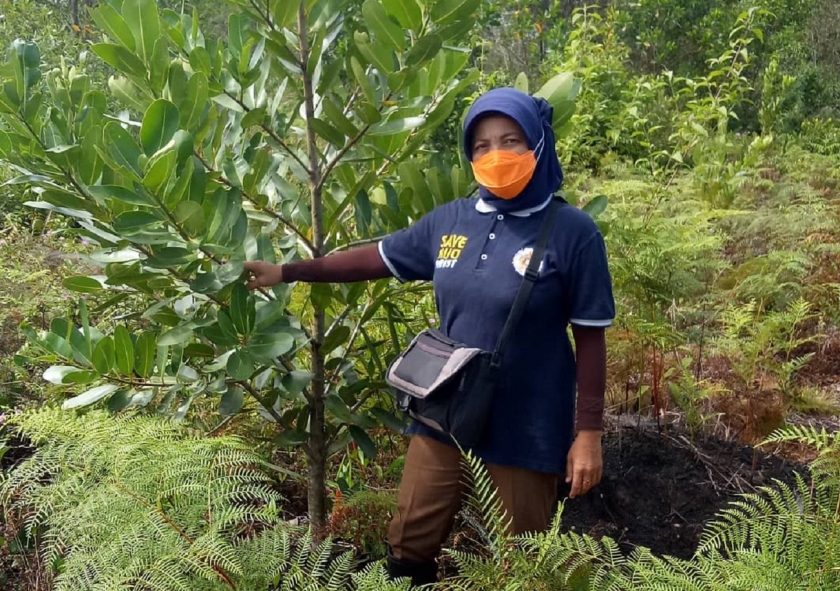 Planting nyamplung in Dusun Hilir District is a bioenergy-based peat restoration technique, says Kieft. It is hoped that it will provide ecological, economic and socio-cultural benefits for communities living on or near peatlands and will help restore degraded peatland and boost regional energy security.
"The project shows that collaboration with local partners and communities can deliver tangible greenhouse gas emission reductions, significant humanitarian co-benefits, such as the reduced risk of fires, and lay the foundation for community-led sustainable development," says Kieft.