"I was born in the forest and I have always lived in my comarca, remote and isolated. My grandfather and my father taught me about the forest, the plants and how to protect them and take care of them. Taking care of the forest comes naturally to me. As the forest needs me to protect it, I need the forest to live. Combining this ancestral knowledge with new technologies has made me a stronger protector of our indigenous forests." (Rafael Valdespino, Indigenous Technician, Comarca Embera-Wounaan, Panama)
With the largest indigenous population spanning 170 communities, the Mbya Guaranies of Paraguay is an important group that has retained a large part of its culture, institutions, way of life, identity, languages and cosmovision within the ever-changing landscape of Paraguay. In November, 2019, Rafael Valdespino, from the Marraganti community in the Comarca Embera-Wounaan in Panama, the FAO Team from Paraguay and Panama, as well as the partner organizations visited four Mbya Guaranies communities to close a two-year process of capacity development for youth, leaders and community members on responsible governance of forest tenure and community monitoring processes.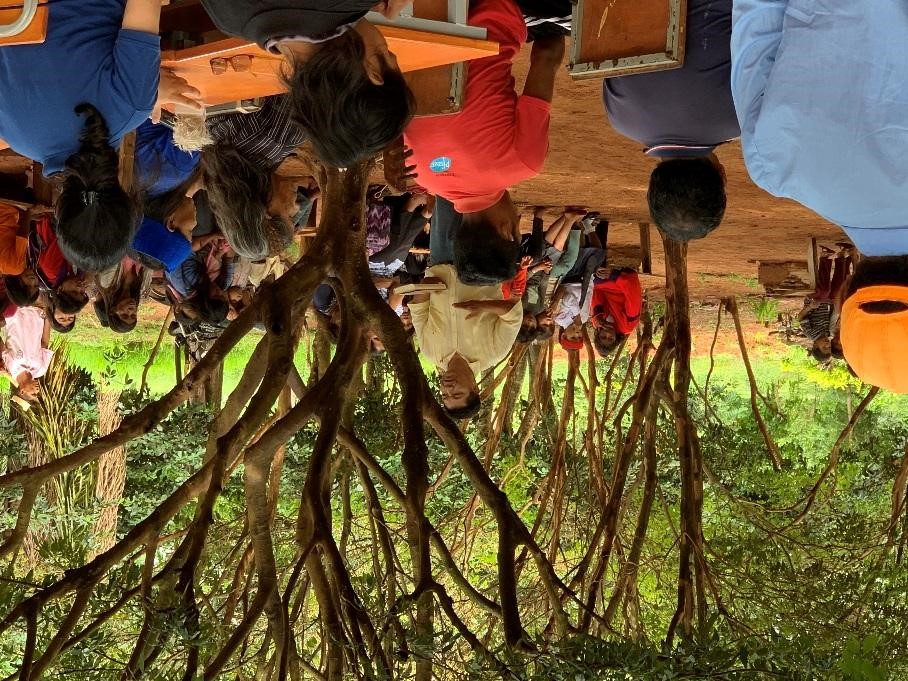 During the peer-to-peer exchange between an indigenous technician from Panama and indigenous technicians from Paraguay, experiences were shared on training processes and implementation of community monitoring of forests. The South-South exchange connected peers so they can learn from each other, discuss their work, address hurdles and improve the effectiveness of their work. Experiential knowledge was shared among peers in their own words, creating a collaborative and reciprocal learning environment.
"I am happy to be here in Paraguay, to be able to talk about my trajectory, which was not an easy one. The courses are not easy. I had to learn by trial and error and perseverance. I want the other youth to know that it is possible. That they should not give up. That they can also learn and mean something within their communities and continue to defend their territories," said Rafael Valdespino, a technician trained in community monitoring by the UN-REDD Programme.
Rafael's adventure started in 2015 when he was selected to participate in a course on GIS, followed by other courses on forest management and the use of drones for forest monitoring. For the last five years, he has been working for his community and sharing his experience with other communities in Panama. He now oversees monitoring of his peoples' territory and lets community leaders know when he encounters problems such as deforestation, forest fires and illegal logging. The monitoring goes beyond forests and at the use of the soil and the territory in general. Since 2017, other indigenous technicians have been trained in Paraguay, allowing them to follow the same path in their communities.
"I was one of the youths that benefited from the trainings, both on GIS, mapping and the use of mobile applications," says Rumilda Fernandez, a technician from the Isla Jovai Teju community.
"We were trained both by our colleagues from Panama and the FAO team from Paraguay. It is very useful to help our communities in mapping our territory and I hope more communities in Paraguay will be able to benefit from this training."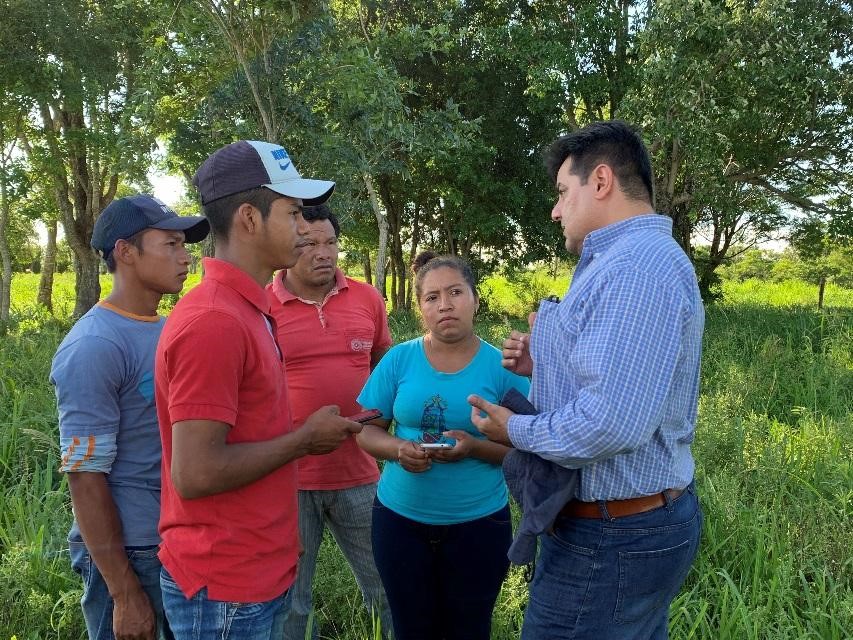 Over the past two years, the Mbya Guaranies communities benefited from several trainings that helped technicians monitor their territories, hand in hand with traditional authorities. This has strengthened the autonomous livelihood systems of these communities. At the same time, the technical team from FAO worked with partner institutions and the communities on the elaboration of internal rules and procedures to better manage the natural resources based on the development plans of the communities.
"We received great feedback from the Jovai Teju community. They are really engaged in the process and willing to move this forward. We worked with the communities for several years, and through a participatory process, a plan for the territory was developed. This plan looks at how to best combine forest protection and ensure food security for the communities," says Petrona Fretes, Chief of the Department for Support to the Indigenous Communities of the Ministry of Agriculture and Livestock.
The initiative has been supported by the Paraguayan Indigenous Institute (INDI), the National Forest Institute (INFONA), the Ministry of Agriculture and Livestock (MAG), Ministry of Environment and Sustainable Development (MADES), National Institute of Rural and Land Development (INDERT), Ministry of Social Development (MDS) and the municipalities.
"I want to continue to help my territory, my comarca, to help protect our forests and our environment from things like extensive livestock farming. I want to support the protection of forests at a larger scale, and I hope I will be able to share my knowledge and skills with other youth, so they can amplify this work in their territories," says Valdespino.
Read the story in Spanish.