Indonesian peatlands play an important role in the fight against climate change, with an estimated 80 billion tons of carbon stored. In addition they are also critical for biodiversity conservation, water resource management, and livelihoods for communities. In the past 15 years, an estimated 3 million hectares of Indonesia's peatlands have been lost to fires, driven by land clearing for agriculture, abetted by limited enforcement and insufficient fire prevention and control during the dry season. As a result, remaining peatlands continue to be degraded due to logging drainage and burning.
In Central Kalimantan continued degradation of peat in the former Mega Rice Project areas remains a dominating factor leading to fires due to clearing land for palm oil and other crop purposes. The situation in Sumatra Riau is more complex as the development of this area is mostly centred on the socio-economic dynamics of smallholder palm oil owners and large-scale plantations. Key challenges in Indonesia's effort to prevent and respond to land and forest fires are: lack of coordination and overlapping responsibilities of relevant public actors; lack of awareness among communities and companies about fire-related risks; lack of law enforcement; unclear chain of commands in fire prevention and response; and a prevailing inadequate capacity to prevent and respond to fires in terms of budget, human resource and equipment.
In the framework of the USAID OFDA funded, Generating Anticipatory Measures for Better Utilization of Tropical Peatlands (GAMBUT) project, UN Environment and UNOPS are currently testing technically sound peat rehabilitation methods in Central Kalimantan. The assignment is carried out in the Dusun Hilir sub District in Barito Selatan.
Quick and effective rewetting and restoration of peatlands is essential to prevent further degradation, land subsidence and fire outbreaks which cause major haze related air pollution in the town of Buntok (Barito Selatan). To sustain impactful, bottom-up water governance structures, it is fundamental to effectively engage land use managers and communities in damming and rewetting efforts.
As canals are getting blocked, the project will pay out small grants to improve the community's welfare through the development of horticulture, fishery, and other livelihoods (the area is very rich in Kerapu, fish). In return for the grants, the people will be obliged to involve themselves actively in rehabilitation activities. The GAMBUT peat rehabilitation efforts will support communities' involvement in peatland and peat forest fire control, and the subsequent provision of alternative environmentally friendly activities, which are sustainably profitable. In this way it is hoped that targeted communities will desist from their old habitats such as illegal logging or slash and burn. The project location has been identified through an assessment of fire risk and fire vulnerabilities based on FRS (Facility Registry Service) data (the area is marked in red below).
FRS Vulnerability Map of Barito Selatan (data from 2002-2015)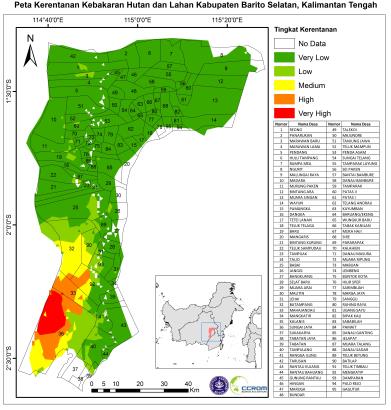 In close collaboration with the district government and the National Peat Restoration Agency, Badan Restorasi Gambut (BRG), artificial fire blockings will be constructed in the canal between Sungai Mentangai and Sungai Purun. Construction of blockings in canals will start as far inland as possible to limit environmental damage by heavy equipment used in the construction process. The main canals can be divided into four logical sections to be blocked:
SP1/SP2 (the part that is not overgrown yet) between Sungai Mentangai and Sungai Purun, including a blocking at location A2 to isolate Sungai Purun completely from the SP1/SP2 canals;

Canal running south from SP1/SP2 through C1 and C2 towards Sungai Kapuas;

Canal SP1 (at the same time with SP2) between A2 and A1;

Canal SP2 (at the same time with SP1) between A2 and A1;
Canals between the rivers Mentangai (west) and Purun (east) will be blocked first. After section 1 has been blocked, sections 2, 3 and 4 could be blocked in parallel. These sections all have a dead-end and are (except 2 small connecting canals between SP1 and SP2) completely isolated.
Logical sections to block all canals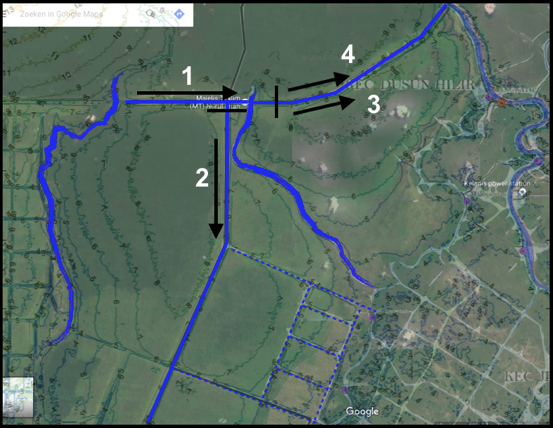 The project will construct compacted peat dams, as they appear to be the most viable option as they are less expensive, last longer and have long been applied to the plantation industry. These dams can be created quickly and cost 500-1,500 USD each. Many thousand have been built in Central Kalimantan. It is likely that local government might finance most of the work.
Compacted peat dams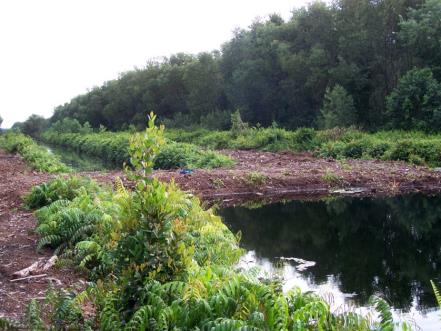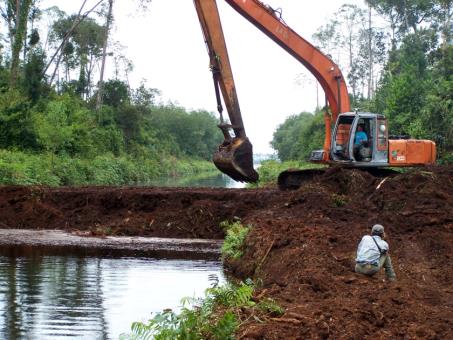 Through the use of a fire risk and vulnerability mapping tool, an area of around 20,000 ha has been identified, where during recent years fires affected over 100,000 people and which has been emitting close to 90,0000 mt CO2 eq/year. A consequent hydrological re-afforestation will enable local communities to rely again on the sawmp for inland fisheries (epinephelinae) and native tree species like gemor and jelutong. The case shows that the use of fire vulnerability as a tool for REDD+ activity selection on peat can enable local policy makers and planners to deliver tangible greenhouse gas emission reduction and significant humanitarian co-benefit. It also lays the foundation for community-driven sustainable development and hence generates local contributions towards the sustainable development goals.