Unlocking sustainable investment in Nature-based Solutions (NBS) for Climate Action in Africa.
Image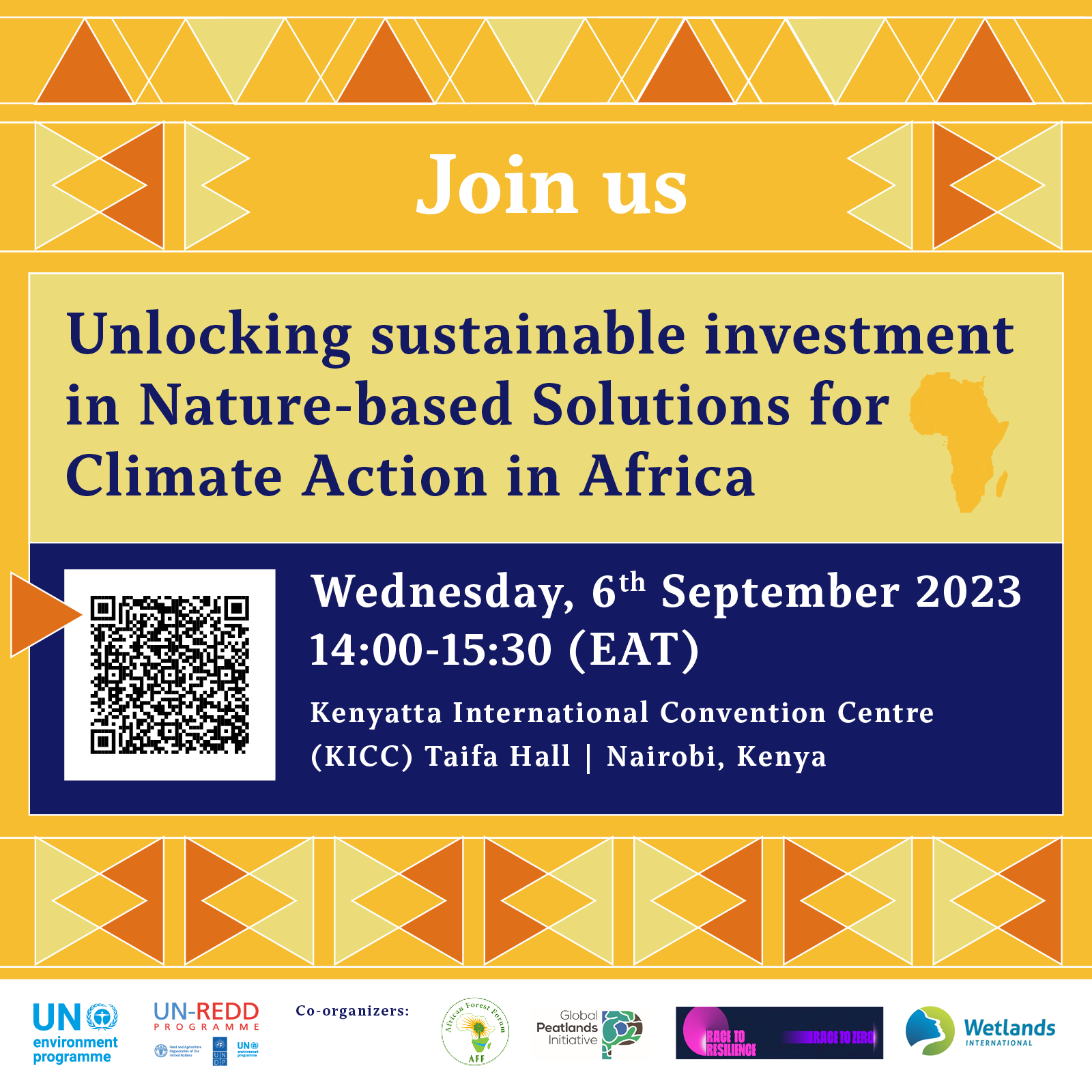 Africa is home to 670 mha of forests and 40 mha of peatlands. Emissions from degraded peatlands in Africa are around 130 Mt CO2 e/yr while an estimated 0.5% of forest is lost every year.  Without safeguarding these tremendous carbon reservoirs, which can potentially reduce emissions by up to 4 billion tons of CO2 per year, the ambitions of the Paris agreement will not be met.   
Climate and nature actors must continue to come together, build momentum and advance the 2030 Land and Water Breakthroughs, to raise ambition and protect these valuable places. Yet, low emission reduction commitments and low carbon prices in voluntary markets are hindering this progress. In 2023, prices were USD 3-5 per ton compared to USD 80-100 in regulated markets.   
The side event has been funded and organized within the framework of the UN-REDD Programme and the Global Peatlands Initiative. This event will highlight ways to unlock sustainable investment for Nature-based Solutions (NbS), by producing high-integrity carbon credits, increasing carbon credit pricing and accounting for the multiple benefits of nature.
Moderators: 
Dianna Kopansky-  Global Peatlands Initiative Coordinator, UNEP
Sekai Ngarize, UNEP UN-REDD Africa Regional advisor 
Speakers 
Her Excellency Ms. Razan Al Mubarak, High-Level Champion of the UAE 
Her Excellency Mrs. Arlette Soudan-Nonault, Minister for Environment and Sustainable Development, Republic of Congo.  
Mirey Atallah, Head of Branch, Nature for Climate, UNEP  
Nady Mahmoud, Land Use System Transformation Lead, Climate Champions
Daniel Vicente Ortega Pacheco, Expert Panel Co-chair IC-VCM  
Roselyn Fosuah Adjei, REDD+ National Focal point, Forestry Commission, Ghana 
Jean Jacques Bambuta Boole, Peatland Management Unit Coordinator, Ministry of Environment and Sustainable Development, DRC 
Bob Kazungu, REDD+ National Focal Point, Ministry of Water and Environment, Uganda 
Teleola Oyegoke, African Carbon Markets Initiative (ACMI) 
Julie Mulonga, Director, Eastern Africa Wetlands International 
This Africa Climate Week side event will be a 90 minutes hybrid session. 
You can watch the event live, here