Safeguarding People and Nature IN REDD+: Meeting the Safeguards Requirements under the United Nations Framework Convention on Climate Change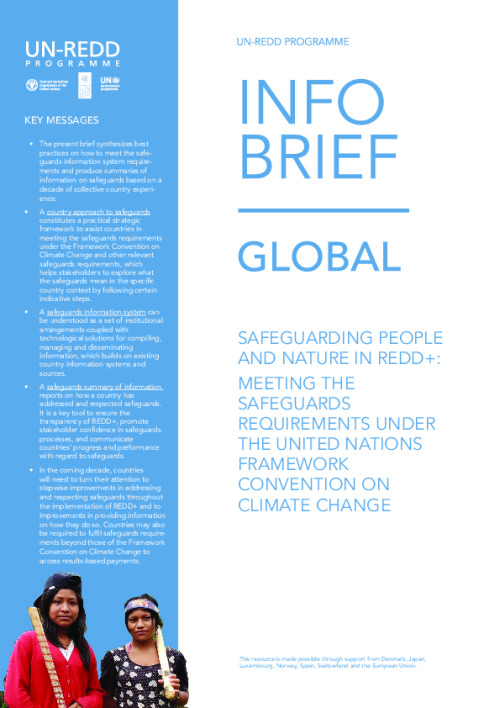 KEY MESSAGES
• The present brief synthesizes best practices on how to meet the safeguards information system requirements and produce summaries of information on safeguards based on a decade of collective country experience.
• A country approach to safeguards constitutes a practical strategic framework to assist countries in meeting the safeguards requirements under the Framework Convention on Climate Change and other relevant safeguards requirements, which helps stakeholders to explore what the safeguards mean in the specific country context by following certain indicative steps.
• A safeguards information system can be understood as a set of institutional arrangements coupled with technological solutions for compiling, managing and disseminating information, which builds on existing country information systems and sources.
• A safeguards summary of information reports on how a country has addressed and respected safeguards. It is a key tool to ensure the transparency of REDD+, promote stakeholder confidence in safeguards processes, and communicate countries' progress and performance with regard to safeguards.
• In the coming decade, countries will need to turn their attention to stepwise improvements in addressing and respecting safeguards throughout the implementation of REDD+ and to improvements in providing information on how they do so. Countries may also be required to fulfil safeguards requirements beyond those of the Framework Convention on Climate Change to access results-based payments