REDD+ Academy Facilitator's Notes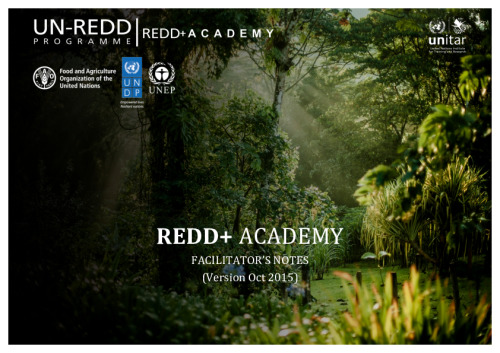 In line with the objective of the REDD+ Academy to train trainers (ToT) who can replicate national level REDD+ Academy events on any of the various modules or groups of topics presented in the twelve REDD+ Academy Learning Journals (accessible here), the Facilitator's Notes document aims at supporting the facilitator(s) of REDD+ Academy training sessions by providing detailed information on purpose of the training, draft agenda, materials needed to run the various sessions, facilitation techniques, group exercises, etc.
The Facilitator's Notes document contains detailed advice and instructions on how to present each of the twelve REDD+ Academy topics - see also the twelve REDD+ Academy Learning Journals here, as well as how the Training of Trainers (ToT) element can be incorporated in the training event. Approximate timings are given for each activity, which can be adapted to the overall length of the REDD+ Academy training, as designed for the specific event.
All supporting materials useful for running each of the sessions, including handouts (in English and French) and introductory presentations (in English), can be downloaded here. These are drafts that can be adapted according to the needs for specific training events.