A national approach to safeguards and a safeguards information system for REDD+ implementation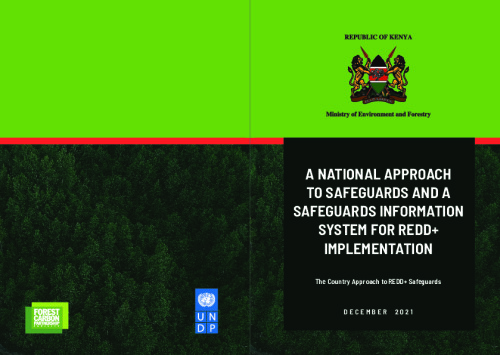 Kenya's updated Nationally Determined Contributions to the Paris Climate Change Agreement, submitted to the UNFCCC in 2020 identified the forest sector as a priority area to move Kenya towards a low-carbon, climate resilient development pathway. The updated NDC identified the forest sector as having a mitigation potential of 40.2 million tonnes CO2 by 2030 of which 20.8 million tonnes CO2 is committed in the NDC. Kenya seeks to establish and operationalize its REDD+ architecture, as an incentive mechanism, in line with the policy frameworks developed as requirements for REDD+ implementation under the UNFCCC.
The Ministry of Environment and Forestry, with the support of United Nations Development Programme (UNDP) and financing from the Forest Carbon Partnership Facility (FCPF), embarked and delivered on the key REDD+ instruments for Kenya. The REDD+ National Strategy is one of the pillars delivered thus putting Kenya in the league of UNFCCC countries that have developed the REDD+ Architecture.

The Safeguards Information System and its accompanying instrument (Country Approach to Safeguards- CAS,SESA and ESMF) was developed through an intensive, and wide stakeholders' engagement.