Developing Capacity for National Forest Monitoring Systems UN-REDD Support and Innovative Solutions for Collecting, Managing and Reporting Forest Data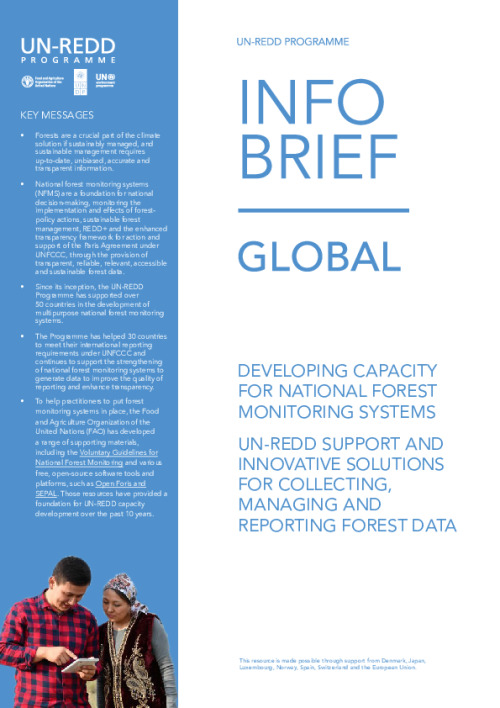 KEY MESSAGES
• Forests are a crucial part of the climate solution if sustainably managed, and sustainable management requires up-to-date, unbiased, accurate and transparent information.
• National forest monitoring systems (NFMS) are a foundation for national decision-making, monitoring the
implementation and effects of forest policy actions, sustainable forest management, REDD+ and the enhanced
transparency framework for action and support of the Paris Agreement under UNFCCC, through the provision of transparent, reliable, relevant, accessible
and sustainable forest data.
• Since its inception, the UN-REDD Programme has supported over 50 countries in the development of multipurpose national forest monitoring
systems.
• The Programme has helped 30 countries to meet their international reporting requirements under UNFCCC and continues to support the strengthening
of national forest monitoring systems to generate data to improve the quality of reporting and enhance transparency.
• To help practitioners to put forest monitoring systems in place, the Food and Agriculture Organization of the United Nations (FAO) has developed
a range of supporting materials, including the Voluntary Guidelines for
National Forest Monitoring and various free, open-source software tools and platforms, such as Open Foris and SEPAL. Those resources have provided a
foundation for UN-REDD capacity development over the past 10 years.