Beyond Headcounts: A tool for monitoring women's and men's effective participation in meetings and workshops-English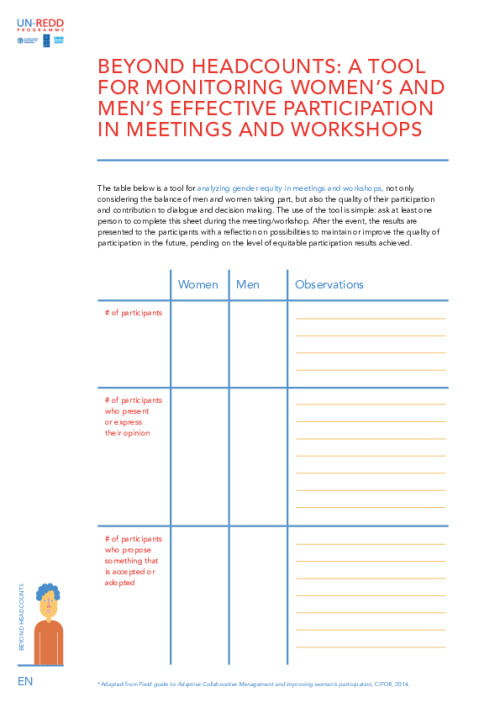 As we know, more and more people are aware about gender and the need to increase the number of women in forestry discussions and decision making.  Greater attention has been paid to letting women have a seat at the table, but there are often many constraints which inhibit their full and genuine participation.  For example, women may lack the confidence to speak up in meetings or they may find that male facilitators or participants dominate or pay less attention to women's ideas or suggestions.  As such, the very valuable and unique contributions of women to forest governance are often limited.
 To help confront this issue, the UN-REDD Gender Team is pleased to share a new tool, available in English, French, and Spanish adapted from CIFOR's Field guide to Adaptive Collaborative Management and improving women's participation (2014). The aim of the tool is not only to help measure how many men and women participate in a given meeting or workshop, but also to analyze the quality and effectiveness of their participation by assessing how often women and men express their opinions or present ideas, and how often their ideas or proposals are accepted or adopted.  As such, the tool enables organizers as well as participants to better understand the quality of participation from a gender perspective.  If participation between men and women is unbalanced, the tool encourages participants to reflect on steps they could take to facilitate more even participation from men and women in future meetings or workshops. Some examples of potential solutions could include selecting a woman to facilitate the meeting, breaking into women-only and men-only focus groups, including gender awareness and objectives in the content of the meeting or asking all participants to simultaneously use the tool during a future meeting.  Use of the tool takes some additional effort, but the benefits of more gender-balanced participation are sure to compensate for these efforts.