Sougue Kadjatou is a 45-year-old farmer who lives with her husband and two children in Agboville, a village in Côte d'Ivoire. Her cocoa plantation, where she works every day from morning until early afternoon, is a forty minute walk from the village. "I'm glad they told me to plant banana and timber trees in my cocoa plantation," she says. "It's good to plant various trees. The bananas give me something to eat and sell, whereas the timber is a friend of the cocoa. Gives it shade. Later on, I'll be able to sell the timber for home building and furniture which will hopefully give me enough money to build my own house for my family."
Sougue is not the only one practising agroforestry. "Before I used to plant cocoa without planting other trees," says Guitty Saidou, a farmer from the same village. "Worse, I would take a piece of forest and clear all the trees away and then plant my cocoa. My dad started with kola beans. When it was my turn, I chose cocoa beans. But for the past five years, I've been introducing banana, timber, orange and avocado trees and now things are much better for me."
Before agroforestry, Saidou's cocoa plantation was suffering from too much sun exposure. "The sun would strike the cocoa trees relentlessly, exhausting the tree and causing it to lose its leaves. It would also dry out the soil and cause the roots of the cocoa trees to die off," he says. "So, the harvest was getting slimmer and slimmer. But now, with the other trees around it, the cocoa gives a good harvest because the trees are healthier."
A VICIOUS CYCLE
Côte d'Ivoire has the fastest rate of deforestation in Africa. In fact, it is also one of the fastest in the world. Currently, according to FAO, the Ivorian forest cover is down to 8 percent.
The consequences have been dramatic: a major drop in rainfall and other devastating alterations in local climatic conditions that threaten the culture of cocoa, Côte d'Ivoire's main agricultural commodity.
Cocoa has brought prosperity to the country; however, decades of cocoa production have exhausted the soil. The decreasing fertility of unsustainably-operated plantations has led local farmers to encroach on forests in search of more productive land. Therefore, the cocoa sector, a casualty of climate change, is also the main driver of deforestation in Côte d'Ivoire. A vicious cycle.
ZERO DEFORESTATION AGRICULTURE: AGROFORESTRY
The issue is so serious that President Alassane Ouattara signed the UN New York Declaration on Forests in 2014 and committed to restoring the national forest to 20 percent of the territory by 2030. Within this context, one of the most promising solutions is planting associated trees in cocoa plantations.
"Agroforestry, though not the only solution to deforestation, is potentially one the most effective," says Jonathan Gheyssens, REDD+ and Sustainable Land Use Programme Officer at the UN Environment Finance Initiative. "It means the diversification of revenue streams and reducing monoculture risks for smallholder farmers who face fluctuating cocoa export prices. It also increases their resilience to climate variations and makes a positive contribution to climate change mitigation."
The UN-REDD Programme works with cooperatives such as SCOOPS-BAD (La Société coopérative simplifiée Binkadi d'Ake Dounanier) in Agboville where both Sougue and Guitty are members. The cooperative helps the farmers introduce agroforestry practices by providing them with trainers such as Amory Parfait who explain to local farmers the importance planting other trees in cocoa plantations. "The shadow of the trees protects the roots of the cocoa plant," says Parfait. "The shadow also lets herbs grow quickly, herbs that retain water, which helps against the drought. We started this diversification two years ago, and we now plant avocado, orange and mango trees amongst the cocoa."
Besides agroforestry, the UN-REDD Programme also advocates for increased agricultural productivity with improved plant material while making use of good practices.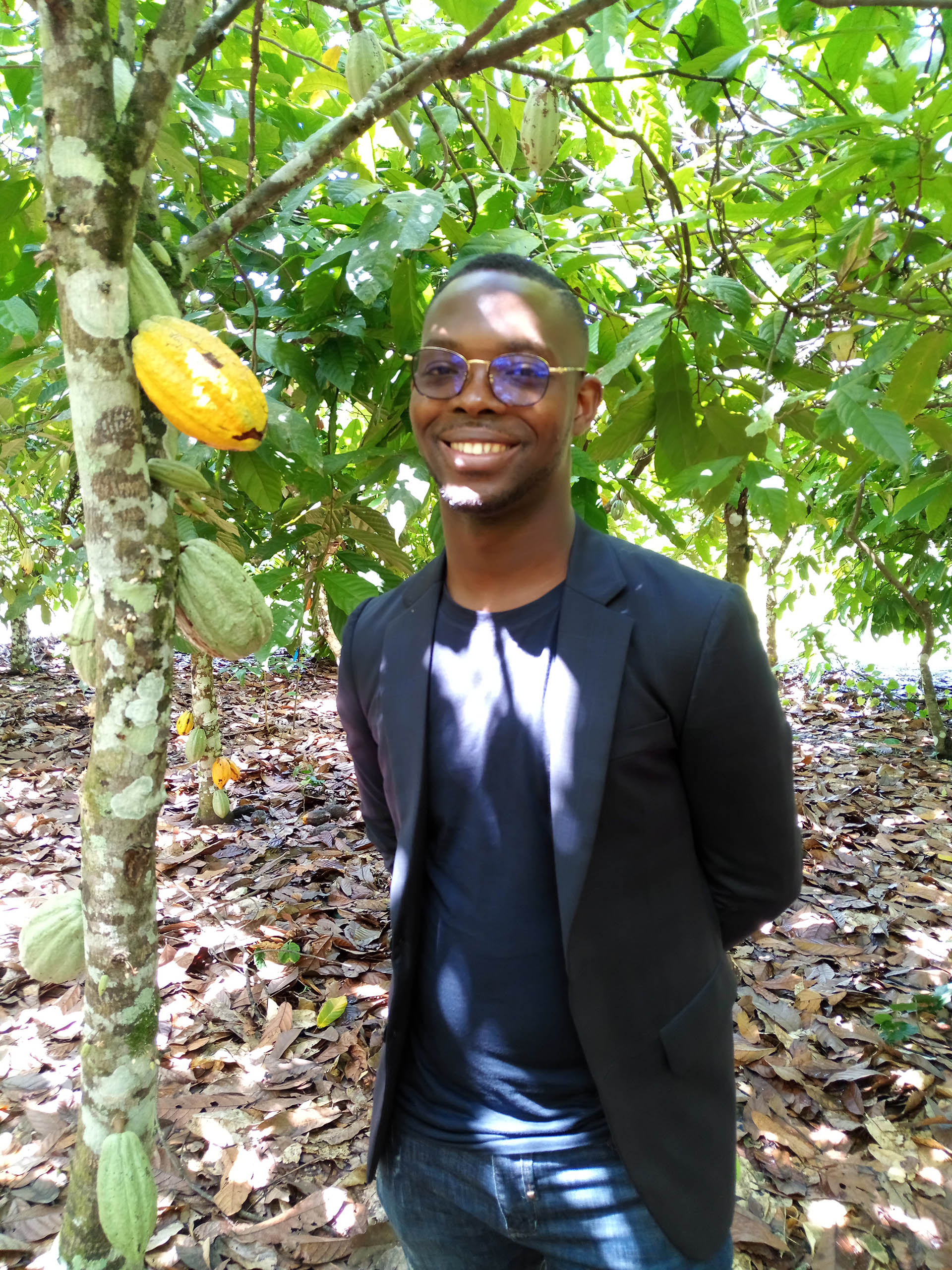 "A lot of forests were destroyed to make way for plantations,"says Jean Paul Aka, the national sustainable land use finance specialist and REDD+ expert. "Half of it went to cocoa production, the rest to palm oil and rubber."
Old cocoa seeds used to require a lot of land because the yield was low. New cocoa varieties can yield up to four times as much product, but only with the right knowledge. They do not resist the harsh sun, for example, but they do produce very fast, after 18 months instead of 4 years, and they produce 3 times more than the older generation of cocoa trees.
"For the new seed to work, a lot of shadow, fertilizer and protection against diseases is needed and the farmers need advice on good agricultural practices," says Aka. "If you use the new seeds, you have better production and you can harvest all year long, provided there's enough rain."
Youssouf Ndjore, acting country director for the Cote d'Ivoire office of the World Cocoa Organization, agrees with the need for a sustainable cocoa business through agroforestry: "Cote d'Ivoire and Ghana signed the Cocoa and Forests Initiative, a commitment to produce more cocoa on less land. The way to do that is through agroforestry, to produce green cocoa, cocoa that can be traced to ensure it isn't coming from prohibited or protected areas, that it's not harmful to the forest and that it gives sustainable revenue to farmers. The vision of the WCO for the future is to have more cocoa with thriving farmers on less land so that we can have a better environment for the future generations."